Texas.
So, really what more is there to say. It was great to visit and truly see my new "home."
I went to Texas this past long weekend to attend my cousin Scott's wedding. Scott married my new cousin Dameria. I wish both of them the very best and a lifetime of happiness together. Welcome to the family!
While in Texas I was able to see so many of my cousins, not all of them, but a big chunk of the Houston crowd. I stayed with my cousins Jennifer and Greg and their son Nathan took me around town to check out places to live and to just give me a lay of the land. I really appreciated Nate for taking me around the city, it was a great tour. I really like Houston, it definitely has so much more to offer than I would have ever imagined.
Also, while in Houston I was able to see my Aunt Grace – I so love my Aunt Grace, she connects me to my father and is a true connection for all of us as family. My mom stayed with Aunt Grace. It was great for them to be able to spend sometime together. They always have a great time. Momma really enjoyed herself, and always does, in Texas. I miss u already momma. See you in a few weeks!
My cousins all really made an effort to show me Houston. Hana, Lisa (congratulations to the newest JD in the family 🙂 It was great to hang out with them all – lounges, clubs, and other spots! Simone was there too, Nate's sis.
Doug and I also got to hang out and saw the Hangover II, ridiculous. Doug, momma, and I also went to Galveston to check out the location of my new ship. Cool. We really spent a lot more time there than we had planned, as the base OOD turned out to be an old shipmate from my last unit. The OOD was called by the watch stander of my new ship- we were taking pictures on the pier in front of the ship, and I guess he thought we were terrorists! In the end the watch stander took pictures for us 😉 I wonder what he will think when I show up in two months – hmmm.
I also was able to check out my cousin's church. Greg is a deacon at the church. Nathan and I went to the late service – 1 PM. Wow! Kinda cool time to go to church. That was the last service of the day, but it was packed. The guest pastor actually grew up in the church! How cool was that. His first sermon ever, he was only 26. Really great message too. I can't wait to go back, hopefully he will guest preach more in the future. I wonder what the normal pastor is like. Also, I will have to check out some of their classes and groups when I get there.
Things to do… I need to get back involved with Habitat for Humanity. I really enjoyed working with them in the past. It was really great to help other and to be able to give back. I definitely need to do something – way more than what I am doing. I am also toying with the idea of going to flight school…hmm, I think that would be a fun thing to do over the next few years to work toward earning my pilots license. Just a thought for now.
Till next time.
JP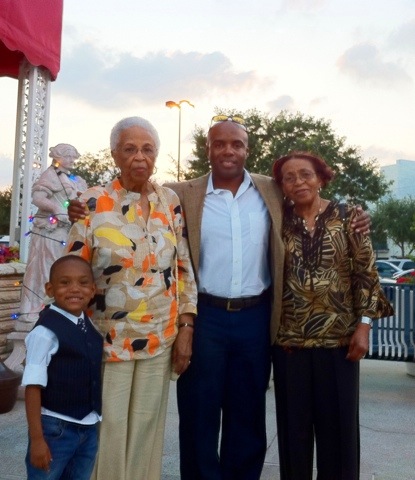 Dylan, Aunt Grace, me, and Momma